.
6th Gen Intel® Core™ i5-6300HQ
Windows 10 Home Single Language
8GB RAM,1TB HDD
2GB NVidia® GeForce GTX 965M
15.6 inch FHD IPS Anti-Glare 220-nits Display
McAfee Live Safe 12 month
1Yr ProSupport : Next Business Day Onsite Service w/Accidental Damage
Delivery Time for each Area Pin Code shall vary
Design Features of Alienware 15 Laptop
Built to push every boundary.
"The Alienware 15 wins a Notebooks.com CES Excellence Award for reintroducing high-end gaming innards to a 15-inch form factor." – Notebooks.com
With Windows 8.1 — for a smooth, versatile PC experience.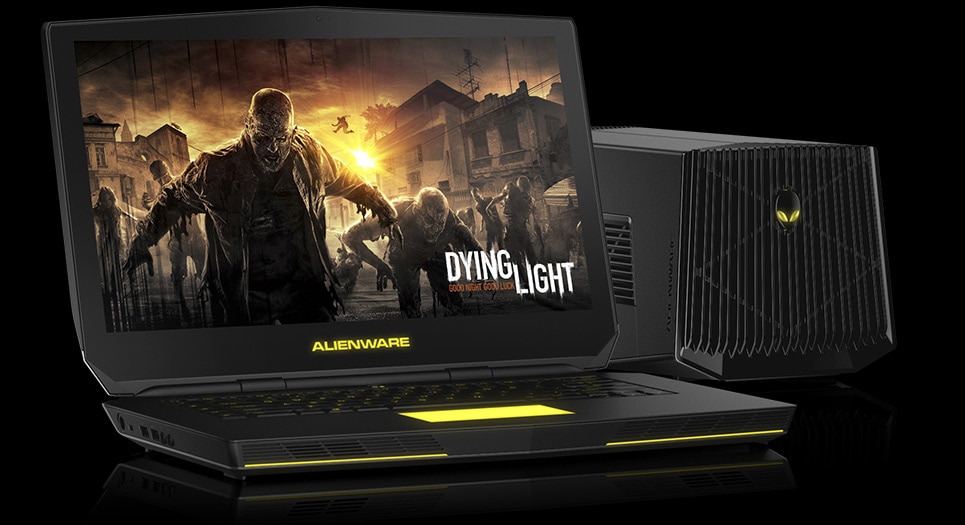 The rush is real.
Engineered with no-nonsense design that gives gamers what they want, the all new Alienware 15 is built thin without sacrificing performance. It's crafted with aerospace-inspired carbon fiber that provides styled stiffness and impressive durability. It's outfitted with copper heat sinks that enable proper cooling, full-throttle graphics performance for up to 100W of dedicated graphics power from AMD or NVIDIA, and the very first optional Ultra HD 4K screen in an Alienware notebook.

When paired with the optional Alienware Graphics Amplifier, you can transform the Alienware 15 with up to 375W of AMD or NVIDIA desktop graphics performance. Alienware 15 configurations that include an Intel Core i7 processor will also become overclocked when paired to the Graphics Amplifier for even more total system performance. Just plug in and get lost in the vivid display and massive performance boost of desktop-class graphics.
Amplified graphics. Advanced gaming.
Plug in. Buckle up: Supercharge your at-home gaming with the Alienware Graphics Amplifier. Simply plug in the Alienware 15, reboot and enjoy a fully expanded desktop experience – supported graphics cards from AMD or NVIDIA® that result in up to a 4K experience, multiple-monitor display and more connectivity with a built-in 4-port USB 3.0 hub.

Killer combo: Matched with the Alienware 15, the Graphics Amplifier provides a perfect solution for the gamer who desires the full rush of ultimate gaming anytime. Get the most out of your gaming by plugging two monitors into your Alienware 15 and enjoying its vivid built-in LCD display, while also attaching as many extra monitors as the graphics card and outputs in your Alienware Amplifier will allow.

Graphics powerhouse: When gaming on the go, the AMD or NVIDIA GeForce GTX 980M based graphics feature 4GB of GDDR5 standard memory, for smooth, crisp, responsive performance that will keep you immersed and engaged.
Engineered for extreme action.
Intense inside:
With the optional Intel® Core™ i7 processor for truly intense, full-voltage quad-core action, the Alienware 15 is equipped for up to 3.5 GHz of turbo power and a seamless gaming experience. Intel offers the only processors that allow you to hyper thread so your machine can simultaneously perform multiple functions faster.

Keep your cool: The Alienware 15's main thermal module consists of copper heat pipes and plates set on the GPU and a CPU – optimizing heat dissipation so your graphics card can use up as much wattage as it desires, and the chassis won't get too hot during battle.
Your keyboard advantage: Built to stand up to the most intense gaming usage, the premium reinforced keyboard includes 9-Alienware TactX programmable keys so you can launch applications in the midst of the action with just the touch of a button. A metal plate built-in behind the keyboard provides uniform feedback and responsiveness for all keys while typing, and the travel distance between each key is engineered to facilitate flawless, smooth motion.
Engage your senses.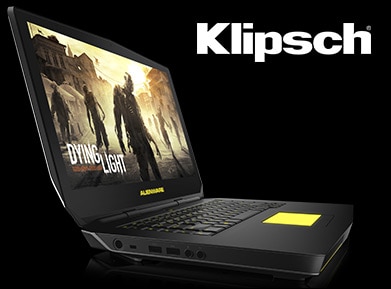 Visionary display: Enjoy IPS-based LCD technology on an expansive 15.6" screen that offers stunningly clear color and clarity anywhere. The Alienware 15 is available with Full HD display, or choose Ultra HD 4K display with touch screen option. Get up to 3840X2160 pixel density – four times the base LCD option – and extra wide viewing angles with optional IPS panel technology.

Sound and fury: Rich, impressive Alienware 15 audio is powered by Klipsch and Creative SoundBlaster X-Fi technology. Look directly into the eyes of your friends and opponents with a 2.0MP Full HD webcam and let the banter flow with a dual microphone array.
Have you used this product? Rate it now write a review
Customer Reviews
Just like sports car

Review by

Vibhakar Roy

Superb, value for money. (Posted on 5/8/17)

Amazing piece of technology

Review by

Abhishek Khare

i was blown away by the looks of this laptop its alienware fx software is amazing and it looks like it came from outerspace the font on the keyboard is also futuristic and the moment you press the turn on switch and the way it glows will give you goosebumps...atleast it gave me i love it (Posted on 3/27/17)